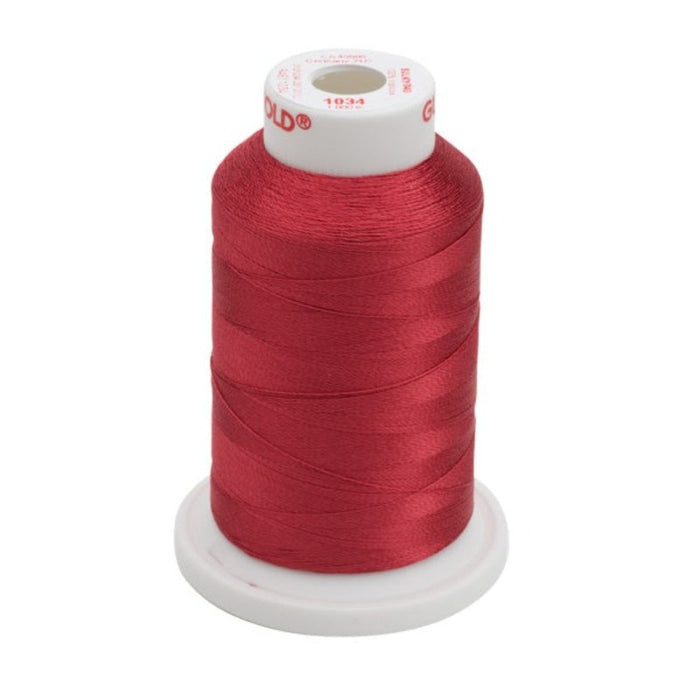 Gunold Embroidery Thread - SULKY 40 - 1000m - 1034 - Light Burgundy
Save

0

%
Save %
Original price
$6.90 SGD
-
Original price
$6.90 SGD
Gunold Embroidery Thread - SULKY 40 - 1034
Never run out of your favorite colors again. The 1000m. Jumbo cone is a Great Value for your most used colors or if you are professional embroiderer. Sulky 40 Wt. Rayon embroidery thread has the same luster and soft, warm, natural look as silk with silks smoothness, but it is stronger and less expensive. The vast majority of embroidery designs are digitized for Sulky 40 Wt. Rayon thread. Because of its excellent runability, unparalleled quality and huge selection of colors, Sulky is, and always has been, the first choice of machine embroiderers. Only Sulky Rayon threads are made exclusively from ENKA fibers, proven to be the highest quality rayon/viscose fibers in the world.
Color Name: Light Burgundy
Hand Weight: Light
Recommended Needle 1:

75/11 Thin or Heavy Material

Recommended Needle 2:

80/12 Thin or Heavy Material

Solid, Variegated, or Multi-Color: Solid
Spool or Cone: Cone
Thread Weight: 40 Wt.
Metres:1000m.
Fiber Content: Rayon
Brand: 40 Wt. Rayon
Care Instructions
All colors of Sulky Rayon thread are wash, boil and light fast and can be dry-cleaned.
Washing:
All embroidered articles should be washed with mild laundering agents. If necessary, Sulky rayon thread can also be washed with heavy duty detergents. However, some of these detergents may contain optical brighteners that can cause discoloration. If you choose to use heavy duty detergent use one that does not have additives or bleaching agents such as chlorine, peroxide or sodium carbonate.
If washed by hand AMPLE WATER should be used to allow the goods to move freely and rinse thoroughly.
It is important to thoroughly rinse the embroidery before wringing or dry spinning
Embroidered clothing should not be left lying in a damp pile, especially if the item is being washed for the first time.
Dry-Cleaning or Stain Removal:
Sulky rayon thread may be dry cleaned.
Stain removers must not contain any bleaching agents or color removers if they come into direct contact with the embroidery.
It is necessary to rinse the embroidery after stain removing.
Ironing:
All embroidered items should be ironed on the reverse side or between two pieces of cloth.
Drying:
Tumble dry on low setting.