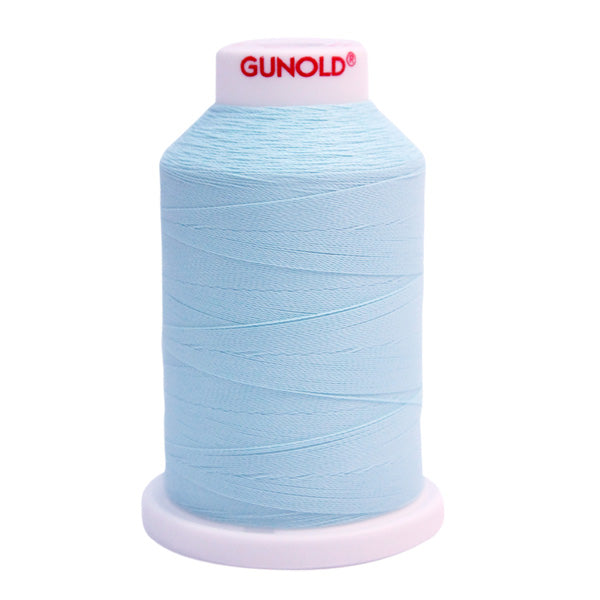 Gunold Embroidery Thread - GLOWY Glow in the Dark - Blue 47204
Save

0

%
Save %
Original price
$29.90 SGD
-
Original price
$29.90 SGD
GLOWY 40 Blue - 47204 1000m | Gunold Embroidery Thread 
Col: Blue
Total 7 Colours ( you may click the link to go to each individual products too):
1) 47201 Yellow
2) 47202 Peach
3) 47203 Pink
4) 47204 Blue
5) 47206 Purple
7) 47208 White
Luminous Embroidery Thread Made in Japan
Gunold offers two glow-in-the-dark embroidery thread options. You'll find "Glowy™" luminous embroidery thread and "Fluor™" fluorescent embroidery thread both have the same high quality as all our products. Both are designed specifically for multi-head embroidery machines. Fluor™ is a white thread, while Glowy™ comes in seven different thread colors. Both threads have a practical, durable application and can be used as a fun and decorative touch for a wide-range of applications, such as Halloween costumes and stage costuming.
100% POLY MINI-KING 1000 METERS
̴
Washing:
All embroidered articles should be washed with mild laundering agents. If necessary, Sulky rayon thread can also be washed with heavy duty detergents. However, some of these detergents may contain optical brighteners that can cause discoloration. If you choose to use heavy duty detergent use one that does not have additives or bleaching agents such as chlorine, peroxide or sodium carbonate.
If washed by hand AMPLE WATER should be used to allow the goods to move freely and rinse thoroughly.
It is important to thoroughly rinse the embroidery before wringing or dry spinning
Embroidered clothing should not be left lying in a damp pile, especially if the item is being washed for the first time.
Dry-Cleaning or Stain Removal:
Dry cleaned.
Stain removers must not contain any bleaching agents or color removers if they come into direct contact with the embroidery.
It is necessary to rinse the embroidery after stain removing.
Ironing:
All embroidered items should be ironed on the reverse side or between two pieces of cloth.
Drying:
Tumble dry on low setting.
Helpful Hints
Remember: Lower quality embroidery threads result in frequent thread breaks and lint accumulation. When this occurs this can lead to increased production costs - slowing down your production line,  wasting thread and higher machine maintenance expenses.