Juki HZL-G220 High-End Sewing & Quilting Machine
Global Shipping!!




Free Delivery in Singapore on S$250
Machine & Technical Expert




Consult Us
FREE 365 Days




Machine Operation Training in-House under Ban Soon Care
In House & Credit Card Installment Plan




Available
Only The Best




Repair & Service & Warranty
Juki HZL-G220 High-End Sewing & Quilting Machine
Achieve perfection stitch by stitch with the JUKI HZL-G220!
Warranty: One year carry-in warranty + FREE 30 Days in-house Training
Achieve perfection stitch by stitch with the JUKI HZL-G220! The JUKI HZL-G220 is a full sized computer-controlled sewing machine with a bright LCD screen. Take on big projects with the wide underarm space and create beautiful seams with the box feeding system. The JUKI HZL-G220 comes equipped with 180 stitch patterns that include 1 font letter, 7 buttonhole patterns, and a wide variety of accessories.
| | |
| --- | --- |
| | Free Sewing Machine Training and Join Our Sewing Lessons and Sewing Classes to learn about the machines and project. |
| | 30-days free consulting, in-house training and support at Sewing.sg. |
| | Trade-in options available and replace your old machines with upgrade program. |
| | Experience all the demo & display machine at our store - Bring your materials and test drive it. |
| | Wide range of payment method supported - Cash, NETS, Cheque Credit/Debit Cards, Installment, Paypal and etc. |
| | Free In-house Training session for each of the products. |
| | Warranty and Servicing from Experience in-house Technicians. |
åÊ
Contents
Juki HZL-G220 Features
JUKI HZL-G220 is a full-sized computer-controlled sewing machine. The technological advances and superior workmanship that Juki industrial sewing machines are known for have been carried over to the HZL-G220 with a bright LCD screen. Take on big projects with the wide underarm space and create beautiful seams with the box feeding system.

The JUKI HZL-G220 comes equipped with 180 stitch patterns that include 1 font letter, 7 buttonhole patterns with high quality, and a wide variety of accessories. Powerful box feed that handles any fabric weight without shrinkage or shifting, and wide arm sewing space. This model can handle any fabrics from heaviest to the lightest and most delicate fabrics.

It's user-friendly and easy to follow threading guide that is so clear and precise, with a stitch selection guide just inside the top lid. Functioned for buttons: start/stop; needle up/down; thread cut; memory storage and clearing; reverse stitch; plus a speed control slider and an automatic needle threader.
There is a monochromatic LCD screen that displays stitch numbers, the ideal presser foot to use for each stitch and stitch length and width settings along with graphics for the stitch selection menu and memory files.It's almost whispered quietly while sewing your projects as The motor power is highly strong and there is no vibration as it has the huge steady metal base.
Juki HZL-G220 is the starting point to quality long-arm sewing machines. This machine benefits from having the Industrial Box-Feed system ideal for quilting and stitch are large range of sewing projects. Combined with it's powerful feed this machine can stitch over thick jean seams. The Juki G Series has made it's self a great reputation for quality free-hand embroidery stitching. This machine really does encourage you to try new creative projects.
With it's clear back-light LCD screen and automatic needle threader this is truly an encouraging machine to use. The HZL-G220 has a thread cutter, 1-step buttonhole and a quick-set bobbin plate. Utility stitches plus a great selection of decorative stitches and 1 font. Use the memory stitch combination to create your our decorative patterns.
It serve as a basic computer-assisted sewing machine, built-in with 180 patterns and one font of lettering. It emphasises stitch quality by introducing the industrial sewing machine box feed technology; it allows for minimal fabric shrinkage even when sewing on light fabrics. Automatic thread trimming is another delightful feature to have. With a touch of a button it trims both the upper and bottom thread, saving you precious time that can be spent on new projects.
Key Features and Specification for Juki G220
180 Stitches Patterns
One Font
Number of Buttonholes: 8åÊ(1-Step Buttonhole)
Automatic Needle Threader
Auto Thread Cutter
Long-arm Sewing Machine 203mm
Box Feed Industrial Machine Technology
Powerful Feeding
Sewing Speed: 900 spm
Needle Type: 130R / 705H
Max. Zig Zag Width: 7mm
Max. Stitch Length: 5mm
Presser Foot Lift: Manual
Presser Foot Pressure: Yes
Bobbin type: 15 Class
Juki HZL-G220 Highlights
Useful Features for Juki G220
Box Feed - Industrial Sewing Machine Technology
In order to provide beautiful seams and outstanding feed performance, JUKI adopted box feed system. The conventional feed mechanism is oval motion. On the other hand, the box feed moves the feed dog in a box motion. This eliminates material shrinking and shifting. This accurate feeding system provides superior stitch quality for a variety of light to heavy weight fabrics.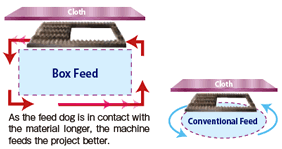 Capability to sew from light to heavy weight materials
No fabric shrinkage even sewing on extra light weight materials.
Thick handle can be sewn with ease.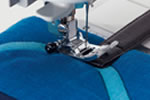 Powerful Feeding
HZL-G series has powerful feeding thanks to the improved presser foot construction. Heavy material projects, such as hemming denim jeans, can be sewn with ease.
Auto Thread Trimming Function
One single action automatically trims both upper and bottom threads at the same time. It eliminates waste of your thread and time.
åÊ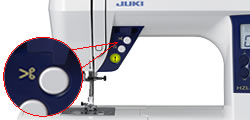 Wide Sewing Space
HZL-G series has a wide underarm space. It is more enjoyable and comfortable to work with large projects.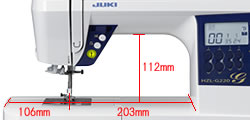 High-Quality Buttonholes
HZL-G series sews beautiful buttonholes regardless of the type of material. 8 types of buttonholes are available for your needs.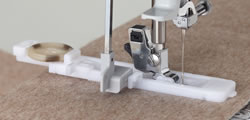 Automatic Needle Threader
The Automatic Needle Threader easily threads the needle without eyestrain and allows you to start sewing quick
Quick Bobbin Preparation
Just follow the guide and it is not necessary to pull up the bobbin thread.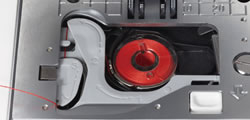 LED Light
LED lights brighten the needle area for better material handling.
Dimensions: 17.5"(W) x 11.5"(H) x 8.75"(D)
Machine Weight: 21lbs
More:Juki Home Machine Accessories & Parts
Juki HZL-G220 Accessories and Parts
Standard Accessories for Juki G220
Buttonhole presser foot
Manual buttonhole presser foot
Overcasting presser foot
Blind stitch presser foot
zipper presser foot
Bobbin
T-shapes screwdriver
Ripper/Cleaning brush
Needle set
Spool cap (Small)
Standard presser foot (A)
Bobbin(1)
Spool cap (large)
Foot controller
Instruction manual
Power cord
Instruction DVD
Download Files:åÊ
Accessories content might vary and manufacturers reserve the right to change the content and/or accessories with similar value without prior notice.
Please check the product manual for the detailed list of included accessories.
Juki HZL-G220 Review
This is a full-sized home use machine that can accommodate everything from basic to advanced sewing demands. A little on the heavy side so it's not recommended if you want a machine that you can easily move around and take with you. It is 44.5cm wide, 29.2cm tall and 22.3cm body depth. It weighs 9.4 kgs unit and hard case. It has all the features you can expect from a computerized sewing machine such as automatic needle threader, one step buttonhole function and LED light. It is very adaptable to the users need. Almost everything can be adjusted, the sewing pace, thread tension, presser feet pressure. Here are some notable improvements: They have improved the bobbin assembly and added a quick bobbin preparation function. The feed dog has also been improved by adapting the industrial machine technology feed box system. This minimizes, if not totally avoid any fabric's tendency to get crumpled or shrank. Another notable improvement is its ability to sew alternate or combined decorative patterns continuously.
Juki HZL-G220 Price and Where to find us
Juki HZL-G220 Service and Repair
Juki HZL-G220 Sewing Lesson and Classes
Juki HZL-G220 Manufacturers, Suppliers, Vendors and Wholesale
Accessories
| | |
| --- | --- |
| Wide Table | Unavailable |
| Threads | Available |
| Bobbins | Available |
| Footers | Available |
---
Frequently Asked Questions (FAQs)